Cold Drawn
Seamless Steel Tubing
(CDS) is a cold drawn 1018/1026 steel tube which offers uniform tolerances, enhanced machinability and increased strength and tolerances compared to hot-rolled products. Produced from hot rolled 1026, the cold drawing process increases the tube's physical properties and offers better tolerances and reduced machining allowances over hot finish seamless.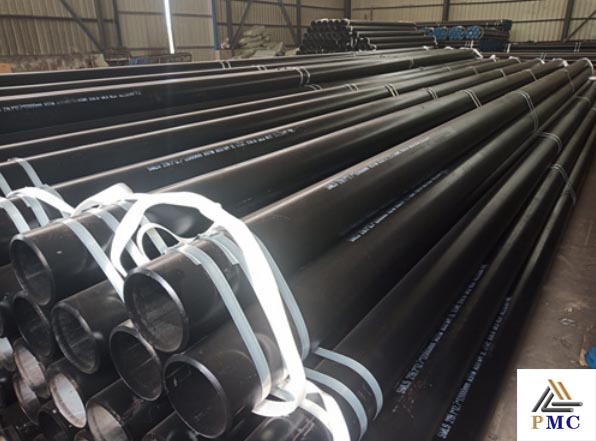 Cold drawn seamless steel tube process

round tube → heating → perforation → Heading → annealing → pickling → oiled (copper) → multi-pass cold drawn (cold rolled) → blank tube → heat treatment → straightening →hydrostatic testing (testing) → mark → storage.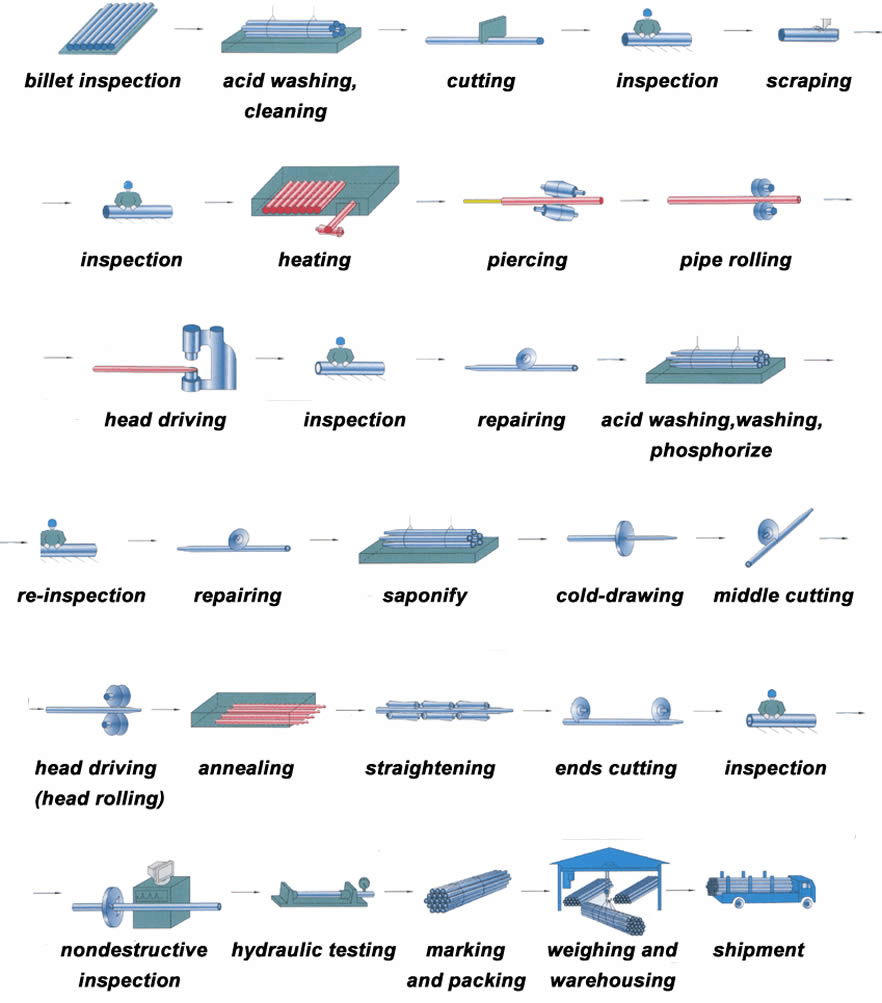 Benefits of Cold Drawn Seamless Steel Tubing

Cold drawn seamless pipes are seamless steel pipes with a circular cross-section made by cold drawing . Its name refers to the shape of steel pipes, such as thick-walled cold-drawn seamless pipes, thin-walled cold-drawn seamless pipes, etc. Cold drawn seamless pipes are widely used in the production of various structural parts, tools and mechanical parts. Compared with round pipes, cold drawn seamless pipes generally have larger moments of inertia and section modulus, have greater torsion resistance, save materials, and improve efficiency. They can be directly processed without deep processing in factories or mechanical processing plants. Use, reduce workload, improve work efficiency, and be loved by terminal demand.

Cold drawn seamless steel tubing provides a better uniformed OD and ID, enhanced machinability, increased strength, and tighter tolerances compared to hot finish seamless products.
Superior surface finish
High yield strength
Dimensional accuracy and excellent micro-structure uniformity
Enhanced machinability
High strength to weight ratio
Tight tolerances, resulting in reduced machine time
Possible spiraling eccentricity inherent in product

Cold Drawn Seamless Mechanical Tubing
Rolling hard roll can be used as the raw material of the hot-dip galvanizing plant, hot dip galvanizing line set annealing line. Rolling hard roll weight is generally 6 to 13.5 tons, the coil diameter of 610mm.

Condition on delivery:
| | | |
| --- | --- | --- |
| Term | Symbol | Explanation |
| Cold-finished/hard(cold-finished as-drawn) | BK | No heat treatment after the last cold-forming process. The tubes therefore have only low deformability. |
| Cold-finished/soft(lightly cold-worked) | BKW | After the last heat treatment there is a light finishing pass (cold drawing) With proper subsequent processing, the tube can be cold-formed (e.g. bent, expanded) within certain limits. |
| Annealed | GBK | After the final cold-forming process the tubes are annealed in a controlled atmosphere or under vacuum. |
| Normalized | NBK | The tubes are annealed above the upper transformation point in a controlled atmosphere or under vacuum. |
The general cold strip mills, volume should go through continuous annealing (CAPL unit) to eliminate cold hardening and rolling stress, or batch annealing reach the mechanical properties of the corresponding standard specifies. Cold rolled steel surface quality, appearance, dimensional accuracy better than hot-rolled plate, and right-rolled thin product thickness is about 0.18mm, so the majority of users favor.

Cold rolled steel coil substrate products deep processing of high value-added products. Such as electro-galvanized, hot dip galvanized, electro-galvanized fingerprint resistant, painted steel roll damping composite steel, PVC laminating steel plates, etc., so that the excellent quality of these products has a beautiful, high resistance to corrosion, has been widely used.

Cold rolled steel coil finishing after annealing, cut the head, tail, trimming, flattening, smooth, heavy volume, or longitudinal clipboard. Cold-rolled products are widely used in automobile manufacturing, household electrical appliances, instruments, switches, buildings, office furniture and other industries. Steel plate strapping package weight of 3 to 5 tons. Flat sub-volume typically 3 to 10 tons / volume. Coil diameter 6m.

Application of cold drawn seamless steel pipe:

Seamless steel pipes can be divided into round pipes and special-shaped pipes according to different cross-sectional area shapes. Since the circle area is the largest under the condition of the same circumference, more fluid can be transported with a circular tube.

Cold drawn seamless steel pipes are widely used in automobiles, motorcycles, electric vehicles, petrochemicals, electric power, ships, aerospace, bearings, pneumatic components, seamless steel pipes for medium and low pressure boilers, etc. It can also be applied to steel sleeves, bearings, hydraulics, etc. Mechanical processing and other fields!


Storage requirements for cold drawn seamless steel pipes:
1. For the site or warehouse where seamless steel pipe products are stored, it should be selected in a clean and tidy place with unobstructed drainage, away from factories and mines with harmful gases or dust. Weeds and all debris should be wiped out on the ground to keep the seamless pipe tidy.
2. In the warehouse, it should not be stacked with materials that are corrosive to seamless steel pipes such as acid, alkali, salt, and sensitive soil. Different types of steel should be stacked separately to avoid confusion and avoid contact with corrosive objects
3. Large steel pipes, rails, steel plates, large-diameter steel pipes, forgings, etc. can be stacked in the open air.
4. Small and medium-sized steel bars, wire rods, steel bars, medium-diameter steel pipes, steel wires and wire ropes, etc., can be stored and placed in a shed with satisfactory ventilation, remember the upper and lower pads.
5. Small-scale steels, thin steel plates, steel strips, small-diameter or special-shaped steel pipes, various cold-rolled and cold-drawn steels, and expensive and corrosive metal products can be stored in the warehouse.
6. The warehouse should be selected according to the geographical conditions, and the ordinary closed warehouse is considered appropriate, that is, a warehouse with a roof, a fence, doors and windows, and a ventilation device.

7. The warehouse is required to always maintain a suitable storage background, pay attention to ventilation in sunny days, and close it to prevent moisture in rainy days.
Go here to learn more about " Hot Rolled Seamless Steel Pipe"